Wednesday 18th march 2020
When the world is starting to feel unreal and surreal we all need something to brighten up our lives. So I desided to paint some bright, colourful and fun Easter chicks in retro style. I don't usually use water colour, but as I decided to live stream me painting from my art studio via Facebook I decided to go for something quicker than oil painting.
having people watching really made me speed things up, so this must be a personal record for me! I had a few live sketching and painting sessions yesterday, and finished it all of on my own today.
It's called Easter trip.
This is A3 size, so it'll be a bit bigger when it's framed.
As with all of my pictures it will be professionally framed with high quality non-reflective art-glass.
Price with framing is 5 500 Norwegian kroner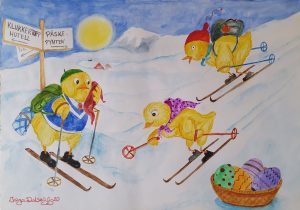 A lot of people started asking if I would get this on art merchandise while I was painting it, so i contaced the companies I use straight away, before I had finished painting. And it turns out I will be able to get some merchandise made in time for Easter this year!
This is the Easter merchandise I can get in time.
Usually I would just order some.
But with the way the Corona-virus has affected my financial situation with a lot of cancellations I am unable to do so.
So if YOU would like to buy any of these items, please let me know, and I will out an order in this weekend.