Friday 26th February 2021
I had surgery for deep infiltating endometriosis in December. I have spent a lot of time thinking about how I could show all of the pain, the despair and frustration in a painting. Here is the result: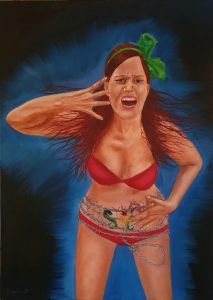 This is an oil painting, it's 70×50 cm and the price with framing is 16 500 Norwegian kroner.
I sincerely hope that other people who have lived with chronic pain is able to recognise something in this painting, even if they do not have the same diagnosis as me.
I have talked a lot about mental helath trhoughout the years, an issue a lot of people find taboo. When I ws diagnosed with endometriosis I instantly decided to be open about this as well. Surely it can't be that much more difficult to talk about your pelvis, period and bowel movements than about depression and being suicidal?
Approximately 10% of all women have this disease. 25% of women with pelvic pain have endometriosis.
Still it takes around 7-10 yeard to get diagnosed.
If more people had talked about endometriosis I am pretty sure we weouldn't have as many women walking around with extreme pain without seeking help – becaue we think this is normal.
Because a lot of us have been told by male doctors that it's just period pain.
It's not normal when it feels like you get raped by a giant bred knife and you faint from the pain.
Also I have to mention that 70% of all people living with chronic pain are women, while 80% of pain medication only has been tested on men.
I truly hope my painting can make a few more people talk about these issues