Thursday 11th February
I received a shipment with  brand new art cards today – straigt from my local printers in Trondheim – in time for both Valentine's Day and Norwegian Mothers Day!
It's actually been all of 4 yars since I last printed new motifs on my art cards, so it was about time!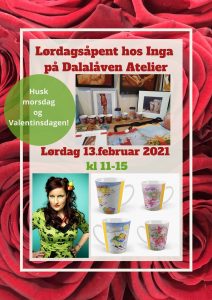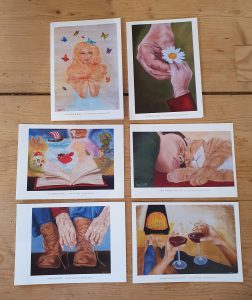 It's become a tradition for me to have my art studio open every day before Christmas in December. This didn't happen last year as I spent all of Dcember in hospital and then recovering. I know this was something my customers mised.
It's not the same, but I am opening for the first time this year on Saturday 13 February at 11-15. So if you a looking for a present for a mother, grandmother, or your Valentine, please come and visit!
I am also having  a sale on all of my old cards now! I will treat you to 2 cards if you buy10! So you buy 10 cards, but only pay for 8.
Use the discount code 10kort when you et to the shopping basket.
This offer is not valid on the 6 new card motifs.