Tuesday 5th September 2017
As someone once said "Dance like nobody's watching; love like you've never been hurt. Sing like nobody's listening; live like it's heaven on earth."
I have always liked that quote, and it was my main inspiration when I started on this painting.
This lady in red has her own opinions though, so this picture turned out very differently from my plan! Somehow she got control, and Ijust ended up painting her the way she wanted to. This painting is 25 x 33 cm, and I plan to exhibit this at Art Shopping in Paris next month.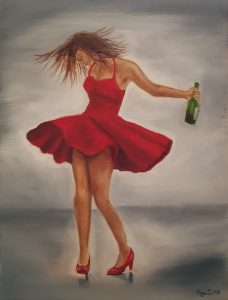 But before Paris there's Halsa! This Saturday, 9th September, I will be exhibiting at Bygdadagen i Halsa 2017. There's going to be so much happening, with a great variety of artists, concerts, shows, Farmer's market, local crafts and so much more to look at, take part in, experience, and buy!
I will bring paintings, drawings and art merchandise and am really looking forward to an eventful day in Halsa! Hope to see you there!